Padraig Wins The Open

- 22 July 2007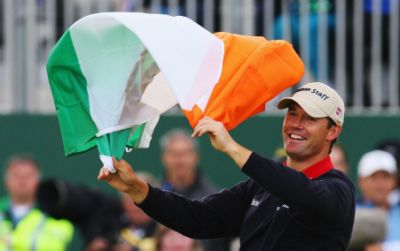 When Padraig attended Colaiste Eanna School in Ballyroan Rathfarnham, he would often take time off to compete in local golfing tournaments. One day Padraig missed a business exam as he had to play at a local competition. When he came in to class the next day, the angry business teacher told him that he should focus more on his studies as he'd never 'make a living from playing golf'.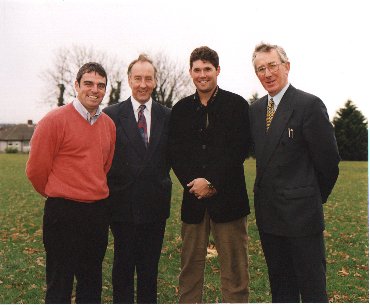 Thank god our local lad ignored that advice!

Yesterday, 22 July 2007, Padraig Harrington became the first Irish man to win the Open since Fred Daly won it at Hoylake in 1947. Harrington clinched the title in nail-biting fashion in a four-hole play-off with Sergio Garcia of Spain.

Harrington, 35, completed the extra holes in 15 shots (level par) after the two Ryder Cup colleagues had finished the championship locked together on seven-under 277 following an incident-packed day of high drama on the east coast of Scotland.

Padraig grew up on Ballyroan Road in the leafy suburb of Rathfarnham. His late father Patrick helped to set up the successful Stackstown Golf Club and encouraged his son to son to take up the sport. While attending Colaiste Eanna Boys Secondary School in Ballyroan, Padraig was trained and coached by the vice principal, Sean O'Donnell.

Pictured above are Paul McGinely, Sean O'Donnell, Padraig Harrington and Brendan Vaughan at Colaiste Eanna (1997).